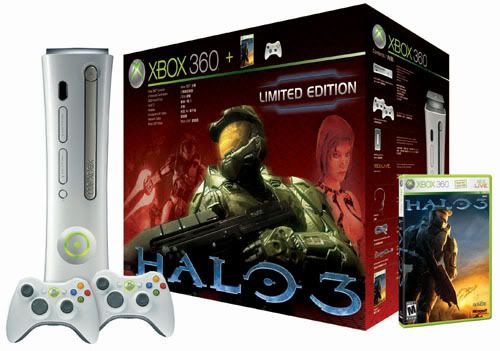 Just found news on a new Asian Halo 3 Xbox 360 bundle:
http://asia.cnet.com/crave/2008/01/31/microsoft-ushers-in-cny-with-festive-xbox-bundle/
"Microsoft is back teasing gamers with yet another festive Xbox 360 promotion. This time round, the Redmond company is offering its 20GB Xbox 360 Pro console, two wireless controllers, hot-selling Halo 3 and one-month Xbox Live gold subscription all for S$669 (US$440.13). Compared to the previous S$649 (US$426.97) Xmas Vinva Pinta and Forza Motorsport 2 bundle, this Chinese New Year package offers even better bang-for-the-buck with the controllers and game alone worth a total of S$226.70 (US$149.14).

If you have been holding back a purchase so far, this is probably a good opportunity to give the HD console a second thought. Afterall, you will certainly need some form of entertainment to keep your guests (especially the restless little ones) occupied during the festive holidays. And just in case you have this burning question back in your mind, the consoles are neither auspiciously dressed in tasty mandarin orange nor feminine red packet hues. Yup, too bad!

The above-mentioned pricing is meant for the Singapore market. Pricings for Hong Kong and Taiwan are HK$3,199 and NT$13,680, respectively. "