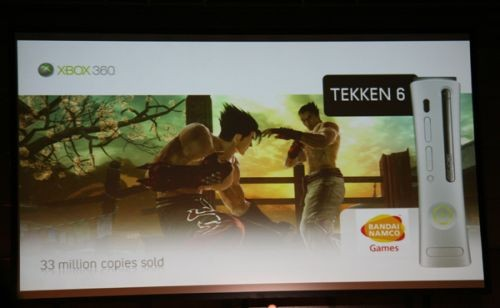 TGS 2008: Tekken 6 smacking Xbox 360
By Randolph Ramsay, Brendan Sinclair,
GameSpot

Posted Oct 8, 2008 9:00 pm PT

Namco Bandai kicks off Tokyo Game Show with confirmation that long-awaited PS3 fighter will launch on rival console simultaneously in fall 2009.

TOKYO--The current generation of consoles has seen a number of longtime exclusive third-party games migrate to multiplatform releases. The Devil May Cry franchise was a Sony exclusive brand until the fourth installment
debuted on the Xbox 360 and PlayStation 3
. Square Enix's Final Fantasy XIII has also
shed its exclusivity
and will be appearing (in the West at least) simultaneously on Microsoft's and Sony's platforms.
Bloodline Rebellion Interview

Check out the latest on the Tekken 6 arcade upgrade!


Watch
Download


Now, one more once-stalwart Sony exclusive has gone multiplatform, as Namco Bandai today opened up the
2008 Tokyo Game Show
by revealing its arcade fighter Tekken 6 would be launching worldwide for the Xbox 360 in fall 2009, simultaneously with the previously announced PS3 edition. The Xbox 360 version of the game will mark the Tekken series' first installment on a non-Sony system since the 2002 Game Boy Advance experiment Tekken Advance.

Tekken project director Katsuhiro Harada--in an exclusive interview with GameSpot--said taking the Tekken series to more platforms would allow even more fans to enjoy the franchise.

"Timing was an important factor in this decision. As you have the 360 and the PS3--both relatively high-powered platforms--out at the same time frames. Both of them have high 3D specifications. And since Tekken is most famous for its graphics and visual design as a 3D fighter, we felt the high specs of these machines lend themselves very well to having the game on both consoles," he said.