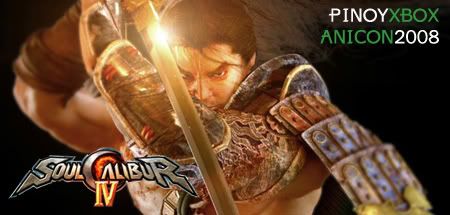 Pinoyxbox successfully held its
SOULCALIBUR IV
tournament at Anicon 2008, drawing so many players to its Soulcalibur IV playing area before the tournament for free play, and eventually having
over 51 players sign up for the actual tournament itself.
In gratitude for all the players who were present at the Soulcalibur IV area in the Pinoyxbox booth, I'm listing every single player that registered for the Soulcalibur IV tournament in this blog post. Apologies if I misspelled some of the name(s), maybe I'm just having a hard time reading your handwriting....I'm posting this in appreciation of your participation at the Pinoyxbox booth, for playing Soulcalibur IV with other players and generally just having a good time and making our booth arguably the most fun booth in the entire convention area :)
SOULCALIBUR IV SIGNUPS
1. Joepen Adelantar
2. Red Ollero
3. Michael Allen Scebatim
4. Jayron Zapanta
5. Jelani Mancago
6. JC Noble
7. Don Regis
8. Miko Sabalboro
9. Leo Carlo Delos Santos
10. Juan Carlos Mendoza
11. Michael Caparas
12. Leo Monera
13. Ralph Espinosa
14. Jaymee Talug
15. Michael Espinosa
16. Lloyd Patrick Simon
17. Ahmed Furooghi
18. Darrell Alvarez
19. Tom Abiad
20. John Michael Sol Cruz
21. Augusto Sol Cruz
22. Jayson Lustre
23. Mari Ascano
24. Carlos Yues T. Manatad
25. Reymar Columbano
26. Zeid S. Nuno
27. Krante Romero
28. Mark Cristian G. Rey
29. David Amen
30. Sami Dizon
31. Manu Ascano
32. Hans Young
33. Jefferson Francisco
34. Jemecats
35. Verne Enciso
36. Garry Andrada
37. Markus Sotto
38. Joshua Ong
39. Williford S. Acierto
40. Wilfred Acierto
41. Jelani Kim Maniago
42. Aldebran B. Gammad
43. Rhandall Pagulayan
44. Rey Delos Reyes
45. Robert Borjal
46. Martha Miranda
47. Erdex Silangcruz
48. Mikee Silangcruz
49. Dennis Jovelo
50. Litton Raysoul
51. Hero Salazar
So many players signed up for Soulcalibur 4. No kidding. We had filled out the 16 slots allocated for players by around 10:15AM - 10:30AM. I am absolutely fascinated and flabbergasted by the fanbase of this game locally. Pinoyxbox member AMD2000 decided on his own to just let people keep on signing up and at the end of the day, I checked the sign up sheet and there were...
51 PLAYERS

...on that piece of paper.
Considering the utter chaos at the booth at that time, some of the people listed in the sign up sheet weren't at the booth when we started calling out names. At the end we had 24 players that properly drew from a drawing of 32 slots, which we used to draw up brackets. When we were already doing the tournament we still had people nagging the PXB volunteers if they could still join (I was getting nagged left and right if the tournament was still open, and I know that the others were getting the same thing too). The movement for Soulcalibur seems so huge. CONSIDER THAT....
1. The poster for ANICON 2008 did NOT have any mention of the Soulcalibur 4 tournament.
2. Our booth didn't have a huge sign that said SOULCALIBUR IV TOURNAMENT on it. In fact, the most visible thing was Rockband 2, and while that had a spectacular turnout as well, most people went straight for SC4 even if it was at the farthest end of the Pinoyxbox booth.
3. We had PRACTICALLY NO ADVERTISING for this tournament other than online postings. I posted this tourney in:
- Caliburforum
- MSForums
- ph.worldcybergames.com
- pinoyxbox.com
- thirdworldgamer
Most of my posts in those places did NOT even have any comments or replies. Despite that, the turnout was much, much MUCH larger than I initially expected.
4. Actually watching the tournament will surprise you...I found very few Kilik/Siegfried spammers and in the end the final match was between Cassandra and Nightmare ---- WITH CASSANDRA EMERGING VICTORIOUS AFTER WINNING 3-1 in a best of FIVE series. Even watching the early series of single eliminations, I was impressed that even with the limitations set on the controls (no shortcuts) people managed to play well and you don't find so many players just spamming the same move over and over.
I was so impressed by this tournament, more impressed than the Virtua Fighter 5 tournament in Singapore; not just because we at PXB ran this tournament and had such a huge turnout, but also because the interest level shown by the gamers present was so high. Everyone loves this game; heck, maybe everyone just loves fighting games made by Namco.
The following images summarize the brackets and matches, including the semi-finals and finals: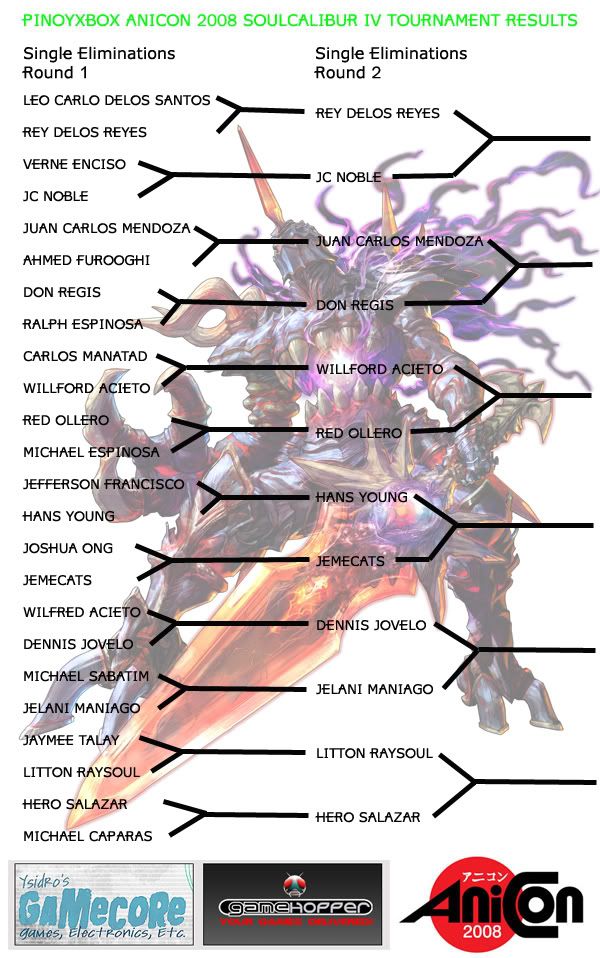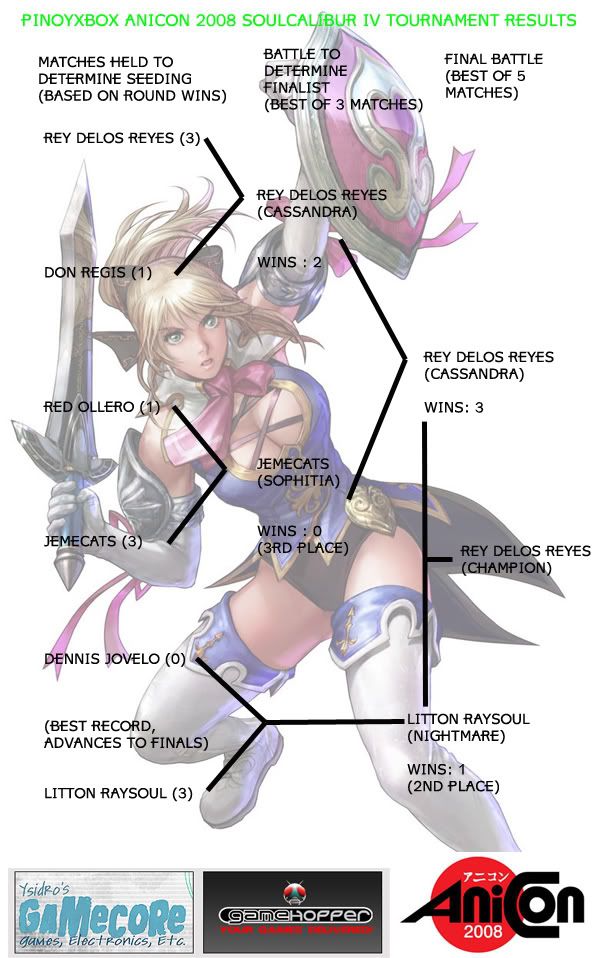 WINNERS:
1st Place, Soulcalibur IV Champion:
Ray Delos Reyes
Prize : Infinite Undiscovery, Lego Batman and 1,000 pesos
2nd Place:
Litton Raysoul
Prize : Too Human
3rd Place:
Jemecats
Prize : 1 set of 20 Pieces D_Skins DVD/CD Protectors
Thanks to all the participants for joining the Pinoyxbox Soulcalibur IV tournament and making it such a massive success, and CONGRATULATIONS to all the winners!
As for the others who signed up but didn't make it to the time of the tournament, our apologies. We had to abide by the rules written for the tournament to keep things fair and orderly (especially at Anicon where it was so loud and crowded) Hope you guys understand. If we have an event again in a place like Megatrade Hall 3 we should seriously consider bringing our own PA system so we can call out the players more easily. That said, we are grateful to everyone that signed up and we hope that if we hold another tournament like this, you guys would show up again
Those three guys who won 1st, 2nd and 3rd are the best of the best, and they definitely deserve it.