According to this thread on NEOGAF
, a price drop for various Xbox 360 SKUs recently took effect at Amazon UK and was announced in two stores in the Netherlands.
Here's the scan from Gamed.nl of the flyer from the stores which 'announced' the price drop.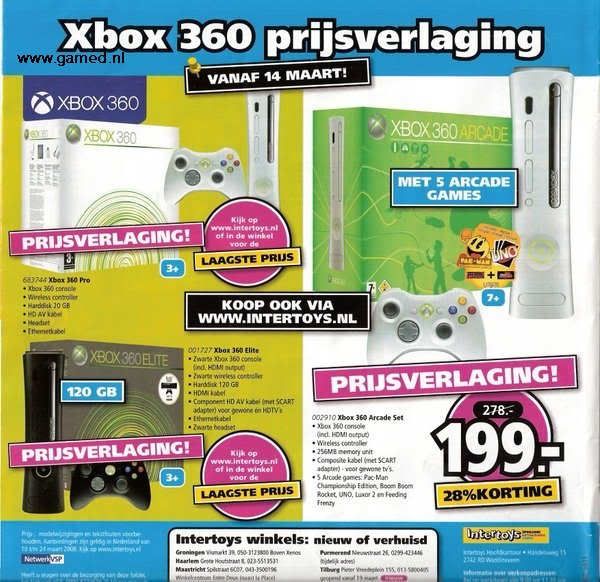 Another site has reported this, and as of this writing Amazon UK pulled their pricing change on the 360. However, in the same NEOGAF thread mentioned earlier, it was also rumored that a more official stance regarding this price drop should be revealed in a few hours. Hopefully it will also take effect in other territories, too (Asia, Japan, US etc).

The new pricing is as follows: For the UK, the Arcade pack on Amazon is now under £150, at £149.99. The retailer is selling the Premium pack for £189.99 and the Elite for £249.99. For gamers in the Philippines, that means that the cheapest Xbox 360 in the UK is about 12,391.87 PHP (converted via XE.com).

From the flyer released by the two stores in the Netherlands, the pricing is as follows:

360 Arcade - from €279,95 to €199,95
360 Premium + 2 games - from €399 to €299,95
360 Elite - from 449€ to €399,95

For gamers in the Philippines, again using XE.com the cheapest Xbox 360 for the Netherlands converts to about 12,563.99 PHP.

Now it may not seem like much of a price drop, but consider that the Xbox 360 is now officially cheaper than a Nintendo Wii in the UK. Also, game console hardware prices tend to be far more expensive in Europe (based on past console generations); taking that into consideration, these prices are substantially low, and I think they might hint at an upcoming price drop for the Xbox 360 across all territories. The reason? I'm guessing it's Grand Theft Auto IV.