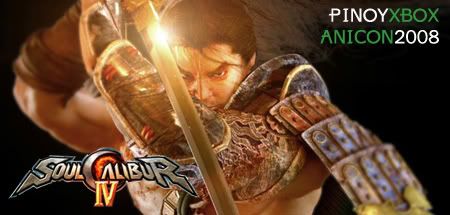 Last year, Pinoyxbox was part of the GX-CON 2007, a Philippine console gaming convention.
For this year, GX-Con has been renamed to
ANICON 2008
, and Pinoyxbox will once again be a part of this event.
Visit the Pinoyxbox at ANICON 2008 thread in Pinoyxbox.com to know more about the convention!


ANICON 2008
will be held on
October 5, 2008
at the
SM Mega Mall Megatrade Hall 3.
One of the things planned for ANICON 2008 is a
SOULCALIBUR IV
Tournament! Details are still being worked regarding this tournament (including the schedule, and if there will be any prizes or other things) but we're pretty sure it will be one of the tournament games to be hosted by the Pinoyxbox community.
Would you like to start practicing already for this tournament?
Hop on to Pinoyxbox's SOULCALIBUR IV thread and find practice mates that are on the same ISP as you.
In my experience, playing against other players on the same ISP for SCIV on XBOX LIVE
has practically no lag!
So it's great for preparing for the upcoming tournament.
More information coming soon! :)