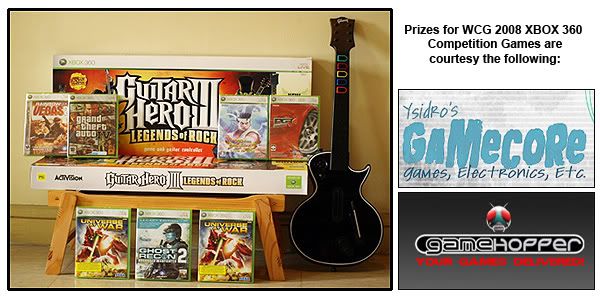 Join the XBOX 360 WCG Preliminaries for GUITAR HERO III and VIRTUA FIGHTER 5 and get a chance to win one of the following Xbox 360 original games or items!
2 GUITAR HERO III: LEGENDS OF ROCK with XBOX 360 WIRELESS GUITAR
2 UNIVERSE AT WAR: EARTH ASSAULT
1 GRAND THEFT AUTO IV
1 RAINBOW SIX VEGAS 2
1 GHOST RECON ADVANCED WARFIGHTER 2
1 VIRTUA FIGHTER 5 LIVE ARENA
1 PROJECT GOTHAM RACING 4
1 HDMI Cable
Each of these prizes also come along with other freebies such as a Grand Theft Auto IV Poster and a Need For Speed ProStreet Seatbelt Casing.
To qualify for the raffle for these prizes, all you have to do is play for the XBOX preliminaries at the WCG. You don't need to become one of the finalists to be eligible for the prizes. Just join in the preliminaries for the Xbox 360 games and get a chance to win one of these games!
The final draw for the winners for these games will be done at the WCG Finals at the SM Mall of Asia on July 13, 2008, after the awarding ceremonies. If you've already participated in the Xbox 360 preliminaries, simply be at the SM Mall of Asia on July 13 for the final draw so that, if you win the raffle, you can claim your prize right away.
Good luck to everyone! This raffle is brought to you by the Pinoyxbox Community
http://www.pinoyxbox.com
Click here for Pinoyxbox's Official Forum Thread for the World Cyber Games 2008.