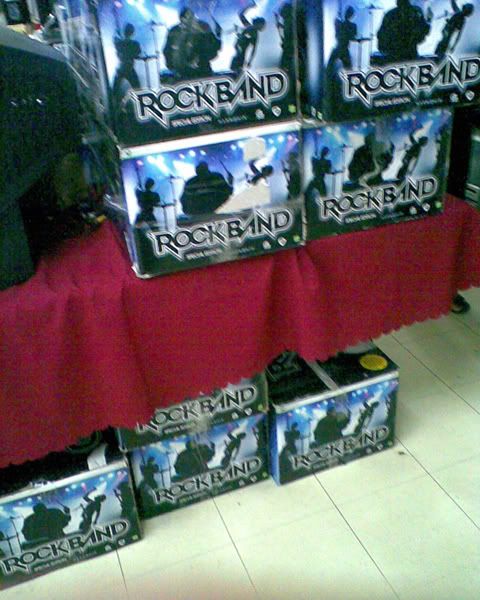 Right now they've got a LOT of surplus original US Rock Band Bundles (Xbox 360) for sale (literally, an avalanche of Rock Band Complete Set Bundles) at HMR in Pioneer, Mandaluyong City.
Since they're 'surplus' (opened, used, but tested to be working), they cost far cheaper than getting a brand new Rock Band Bundle (currently priced at P5,500 for each bundle).
I was just so surprised to see so many surplus Rock Band bundles all in one place.
HMR has so many second-hand/surplus Rock Band Bundles right now that they are actually using one to demo the game!
(the "other" local store that sells brand new Rock Band Bundles doesn't even let you test their brand new games....)
Just a few notes before you buy:
1. These are US Version Rock Band Bundles (they only work on US, NTSC-U Xbox 360s), They're REGION LOCKED. So you have to have a US Xbox 360 to play the game, which is included with each bundle.
2. It's 'buy at your own risk' since these are considered 'second hand' or surplus (meaning some of them were returned for one reason or another---
but HMR tested them and say they're working, and will replace if you somehow get a broken piece of equipment).
The boxes for these things aren't intact; they're opened and at times the boxes themselves are unsightly (in tagalog, 'sira sira na yung mga kahon').
3. One bundle is priced at P5,500, which is nearly half of the price that it's being sold (brand new) in a certain other local establishment.
It's a pretty cheap way to pick up Rock Band, and perhaps if you want to get the instruments already in preparation for Rock Band 2, it's a pretty good deal.
A few months ago we talked about how we scored a Rock Band bundle (all the instruments and the game itself was in pristine shape!) for cheap in HMR Surplus in Pioneer.
Now they have literally TRUCKLOADS of Rock Band Bundles, just waiting to be bought....
Official Site for HMR :
http://www.hmrphil.com/
Map:
Note: For our non-Pinoy visitors
---well, this is what we Pinoys have to resort to to get our games/hardware/etc :D Second-hand/surplus Rock Band for 5,500 pesos....so that's about 124.190 USD