We drove over to the Xbox 360 LAN Gaming Place XBX Interactive for the first time this morning. We were supposed to try out their Rockband 2 VIP rooms, but unfortunately I didn't have enough money for it.

Instead of opting to come back again next time, though, we asked if they had STREET FIGHTER IV, and they did. And the second question we asked...was if they had fighting sticks. The answer was, yes.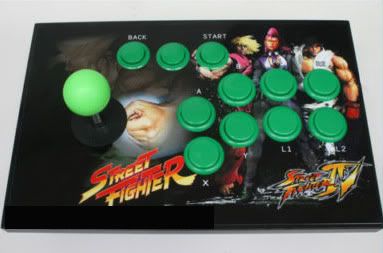 They had 2 of the fighting sticks pictured above; you could rent one stick for 25 pesos (so if there are two players you would have to pay 50 pesos). I remember seeing this stick before on Ebay; in fact, I think this link shows the exact same stick being sold there today. Unlike the CD-R King stick, this stick feels much more solid and responsive. The stick itself is a tad higher than the one on the Hori EX2, so occasionally I found myself unintentionally crouching (pushing down forward). But a little bit of personal adjustment on my end and I was very comfortable with it already. Even my brother didn't have anything bad to say about the sticks. I didn't have that many moments where I didn't execute an Ultra when I needed to. If they sold this stick here locally, I'd buy one of these, if only to have two player SFIV action on sticks on the Xbox 360 platform here at home. We asked the person at the counter where they got these sticks, and he said they were able to get them from Hong Kong.
If you're interested in visiting this LAN shop, you can find it on Katipunan Road near Miriam College. Since I rarely go to the area, I found it a bit difficult to find the place at first; the best clue I could possibly think of is it's in the spot where there used to be a RACKS restaurant a long time ago. It's right in front of Miriam College and it's very near the Ateneo College Footbridge. There's a landmark very near XBX Interactive; it's a place which sells Empanada (I think it's 'Ilocano Empanada'; not sure....but yeah, the store sells empanada, and when you see that store, on the left side of that is XBX Interactive). XBX Interactive have a sign in front of their shop, but it's easy to miss because it is facing away from the direction of the road; in fact, it's easier to spot if you're going towards U.P..
If you or your friends want to hold a Street Fighter IV tournament, XBX Interactive seems like the ideal place to have it in, because arcade sticks are available as standard equipment. There should be no more complaints about the Xbox 360's default controller, and the availability of sticks evens out the playing field for both Xbox 360 players and Playstation 3 players. The quality and responsiveness of the sticks is much better than the CD-R King sticks; arguably, it's the same level of quality as the Hori EX2, once you get used to the height of the stick itself.
Based on the posters they had at the LAN shop, they've had other tournaments held at XBX Interactive; a Rock Band 2 tournament and an NBA 2K9 tournament. So it wouldn't be the first time for the place to have a tournament held in their venue. The place is nice, spacious, and well-equipped, with several Samsung LCD TVs and Xbox 360s available for play. I didn't count exactly how many consoles they had; I just remember they had a lot of them! Perhaps XBX.PH has more information on the actual consoles, hardware, and games that are available there.