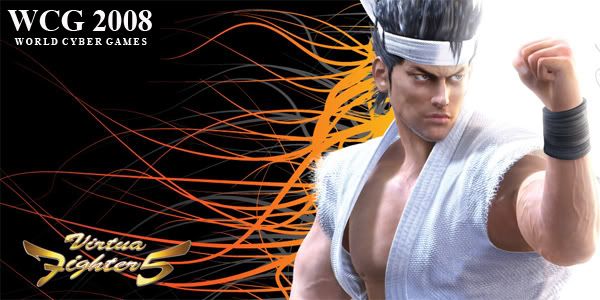 Join the
Virtua Fighter 5 WCG Preliminaries this weekend, June 7 & 8 at SM Megamall,
and get a chance to win prizes from the
PINOYXBOX
Community just by joining! Remember, you don't have to win the tournament or be a finalist to be eligible for the raffle. Just participate at the games and join in the fun :D
These are the prizes that are up for grabs: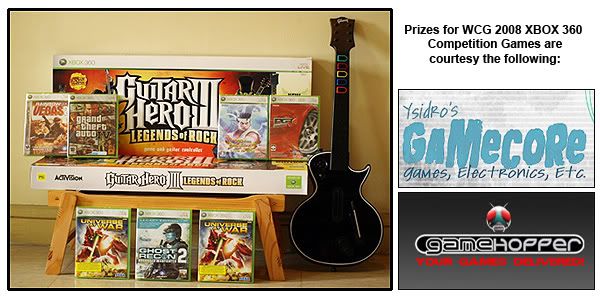 You can win one of the following games/items!
2 GUITAR HERO III: LEGENDS OF ROCK with XBOX 360 WIRELESS GUITAR
2 UNIVERSE AT WAR: EARTH ASSAULT
1 GRAND THEFT AUTO IV
1 RAINBOW SIX VEGAS 2
1 GHOST RECON ADVANCED WARFIGHTER 2
1 VIRTUA FIGHTER 5 LIVE ARENA
1 PROJECT GOTHAM RACING 4
1 HDMI Cable
Just some reminders:
The games will be held on June 7 and 8 at the at the Villman Gaming Area at SM Megamall Cyberzone, 4th Floor Bldg B. The preliminary matches begin at 1:30PM. Player registrations take place before 1:30PM.
For VF5 players, please be reminded that WCG is extremely strict with the registration. You MUST SIGN UP AT THE REGISTRATION AREA AT THE VENUE BEFORE 1:30PM. You will not be able to sign up later than 1:30PM because the marshals will close the registration by then. Late registrations won't be allowed. They won't allow you to sign up late even if you signed up on their website, ph.worldcybergames.com. So it's highly advisable that you sign up at the registration area earlier than 1:30PM.